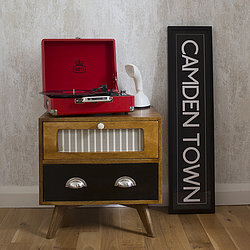 Welcome to I Love Retro, we are a British brand specialising in retro inspired homeware, furniture & gifts. Here you can find the hottest vintage-inspired products around!
Our signature style translates our love of vintage, nostalgia, bold colour & fun. Each piece tells a story of what came before whilst being relevant today.
Created by Laura Hunter back in 2004, we continue to grow, sourcing our products from around the globe to bring you the best in stylish home fashion.
Many of our pieces have been featured in the press including The Stylist's 'Style List' and The Times 'Best Of' interiors article.
This season is all about Lighting, for your ceilings we have vintage, space age and industrial inspired pieces, along with colourful Baroque Chandeliers for the ultimate style statement. Our Isabelle range adds 1920s deco glamour to ceilings and walls, whilst our stunning Bird Cage collection, handmade in Paris, adds colour, fun and beauty to your home. Our Typography collection continues to grow, not only all the letters of the alphabet but an array of signs, symbols & words including arrows, stars, hearts and hashtags. Our Light Think Light Boxes allow you to add fun messages to your walls, whilst our super cool Neon Tube Lights can be used in a variety of ways to create edgy styling, as used by Alexander Mcqueen for a recent fashion shoot.
After the huge success of our British Stamp Rug collection, with exposure on Channel 4's Chatty Man and Living Etc. magazine, we now offer a wide selection with over thirty wool rugs, mixing the old with the new: traditional high quality rug making with iconic and bold colour trends in a variety of designs.
Our pieces reflect a variety of trends and eras. Whether your style is contemporary/modern, vintage/retro or industrial you're sure to find a piece you'll love. We enjoy giving you the opportunity to bring these products to life in your living space and hope you love retro as much as we do!