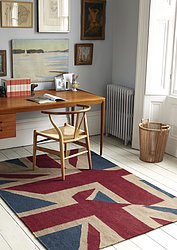 Welcome to the world of I Love Retro and our fabulous collection of homeware and gifts. Style conscious, on trend and a little bit tongue in cheek, our products are sourced from around the globe to bring you the best in stylish home fashion.
Our online boutique was created by Laura Hunter and has been established for 10 years. Laura has developed a knack for translating her vintage and retro style into current and future trends, with products for your home that you'll just love. Today I Love Retro continues to offer customers new, daring and challenging products with lashings of retro style.
This season our aim is to give you the chance to add that 'wow' factor to your home. We are continuing to expand our highly successful high quality wool rug range, with over 40 designs in a variety of colours and wide selection of sizes. We're also working with a greater variety of lighting products and have some dazzling statement centrepiece chandeliers and table lamps.
We enjoy giving you the opportunity to bring these products to life in your living space and hope you love retro as much as we do!