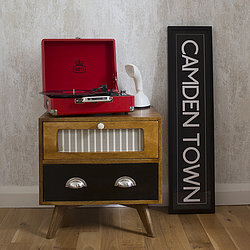 Welcome to the world of I Love Retro and our fabulous collection of homeware and gifts. Our signature style translates our love of vintage, nostalgia, bold colour & fun. Each piece tells a story of what came before whilst being relevant today.
Our online boutique was created by Laura Hunter and has been established for over 10 years. We are constantly on the search for new, innovative pieces to inspire you, sourcing our products from around the globe to bring you the best in stylish home fashion.
Our aim is to give you the chance to add that 'wow' factor to your home. Finishing touches make all of the difference and without these our homes would be incomplete. Our range of vintage inspired home accessories will help update your home without breaking the bank. Whether you add a striking lamp to brighten up a dull corner of your room, or a colourful rug for extra character, small additions really make a big difference.
We also take pride in affordable gifts for the whole family. If you're looking for something slightly out of the ordinary or a traditional toy from years gone by, then delve further into our exciting range.
We enjoy giving you the opportunity to bring these products to life in your living space and hope you love retro as much as we do!