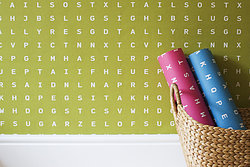 Here I am, in the heart of Hampshire, exploring a passion for individuality...
We all know that feeling of wanting to make a home 'our own' and when you can buy the same designs in Shanghai as in Sheffield that can be tricky. When making my very first wallpaper design it was one-of-a-kind, made up of hundreds of photos of the things that were important to me - a kind of self portrait, I loved it then and I still do today. Uniquely mine.
And now I can do the same for you. Each of our home products allows you to tell your story with words or pictures. Having brought you 'Personalised Word Search Wallpaper', the first bespoke wallpaper on notonthehighstreet.com, there is now a collection of text and photography styles to choose from. A recent introduction is our 'Bespoke Photomontage Wallpaper' as a way to bring all your special memories together in a way that will keep them in your mind each day. Add our lampshades and cushions and your home is very much your own.
Let me help you to make your mark on your own home. Each Identity Papers text and photography product can help you tell your story with words or pictures that reflect your life and interests. From 'Personalised Word Search Wallpaper' that allows you to subtly weave those ever important words into your every day, to the cloudy cushion that takes you back to a perfect summer - It's all about you.