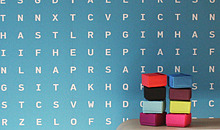 So here we are, in the heart of Hampshire, exploring a passion for paper.... printing, cutting, folding and assembling it to make something unique and lovely for you and your home.
Exclusive text and photography wallpapers that are perfect for your interior. Stunning origami trinket boxes, made with unusual materials.
Having brought you 'Personalised Word Search Wallpaper' the first bespoke wallpaper on notonthehighstreet.com, there is now a collection of text and photography styles to choose from. A recent introduction is our 'Bespoke Photomontage Wallpaper' as a way to bring all your special memories together in a way that will keep them in your mind each day.
In addition, our signature origami boxes, each made from many folded elements may tempt you. Minimal and tailored on the outside, they hold intriguing surprises within.