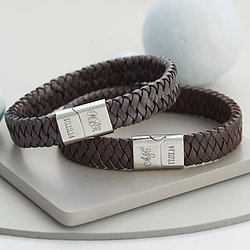 Hurleyburley man was started in 2011 by Sue Buckland and Pippa Currey.
Following the success of our women's and junior range we decided to use our winning formula of wearable, stylish and affordable to produce a range of men's jewellery that has something to suit every stylish man and solve all those gift dilemmas.
Our husbands and teenage sons inspired and road tested our designs to make sure they stand the test of time.
All our jewellery is made using hallmarked sterling silver and will make an enduring and treasured gift.
We are happy to create bespoke pieces and can adjust lengths to suit.
To view our women's collection visit Hurley Burley www.notonthehighstreet.com/hurleyburley
To view our junior collection visit Hurleyburley Junior www.notonthehighstreet.com/hurleyburleyjunior
To view our Ashiana collection visit Hurleyburley www.notonthehighstreet.com/ashianaforhurleyburley