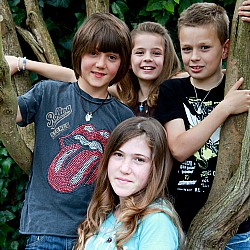 Hurleyburley junior creates gorgeous silver jewellery for children made using sterling silver and semi-precious stones taking inspiration from current trends and street style.
All our pieces are designed to be worn for many years and grow with the owner.
Hurleyburley Junior has a huge following of customers who love our affordable handmade sterling silver jewellery created by us to order. We are always happy to create a bespoke piece to suit your requirements and pride ourselves on our fantastic customer service please do contact us via the 'ask seller a question' tab on each product page. Every piece of our jewellery arrives beautifully packaged in a Hurleyburley Junior gift box and can be gift wrapped and include a gift card with your special message.
We created the range with the help of our children who told us in no uncertain terms what they wanted to be seen in, probably our most demanding clients ever!
To view our women's collection visit Hurley Burley www.notonthehighstreet.com/hurleyburley
To view our men's collection visit Hurleyburley Man www.notonthehighstreet.com/hurleyburleyman
To view our Ashiana collection visit Ashiana for Hurleyburley www.notonthehighstreet.com/ashianaforhurleyburley