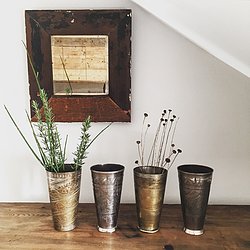 An ecelctic, curated collection of interior accessories, vintage finds and handmade items.
The Hunter Jones collection is born from a love of vintage interiors, a passion for finding that special item which will enliven a space and collecting unique pieces to treasure. The collection is based around the vintage furniture we lovingly bring back to life with carefully chosen paints and finishes, and the textiles and accessories we choose to compliment it.
With a combined 25 years in sourcing, product development and brand management, and after moving from the hustle and bustle of London to the beautiful East Sussex countryside, we decided we wanted to source products that have the warmth and softness of the country but with an edgier colour palette and finish. We love colour and pattern and combining era's and styles to create an individual look that's both vintage and very contemporary.
We hope you like our ever-changing collection...
Michael & Michael