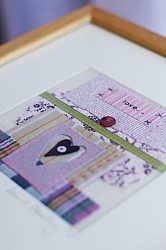 Welcome to Housley & Co
Having spent 15 years in the fashion industry and travelling the world I decided that it was time to spend more time at home combining the two things that I love, gardens and interiors.
I live in the beautiful Peak District on an old farm where I make all my pieces by hand using both machine and hand embroidery
My range of products is very diverse and constantly developing and evolving, probably a throw back from all the constant newness required when designing and buying fashion ranges in my previous life!
My personalised pictures are made with recycled fabrics that I have collected over the years or have been given. I offer a service where friends have pictures made using the fabrics of their childrens old baby clothes, those clothes that bring back memories that you can`t bear to throw away! (Please contact me if you require this and I can arrange for the fabric to be sent to me)
My love of gardening gives me plenty of inspiration for my appliqued cushions and these can also be personalised with names or phrases.