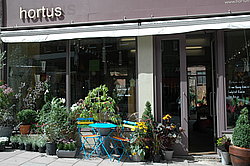 Hortus was created from a desire to provide contemporary design-led accessories for the home and garden.
From our store in leafy Blackheath Village, we source beautiful, unique products that will inspire you to add your stamp of creativity and individuality to your interiors and outside spaces, turning the blankest of canvasses into a beautiful retreat you will never tire of enjoying.
If you are looking for an eclectic collection of gorgeous accessories that will delight the senses without breaking the bank, you're in the right place. We care about our products and our customers and only sell items that we truly love ourselves.
So, whether you're searching for a focal point for your home, a well-deserved treat with a difference or a striking, original gift for a special someone, take a look at our selection of lovingly hand-picked products for your perfect purchase.
If you like what you find, please spread the word and tell your friends about us.