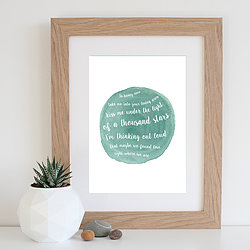 Hope & Love passionately design stylish and colourful prints for your home. Using lyrics from your favourite songs, quotes from the best films of all time and inspirational proverbs we create unique wall art which will stand out and be noticed by friends and family and add an extra special touch to your home.
All of our prints are available fully framed and as quality canvases, delivered beautifully packaged and ready to hang on your wall. Our professional framers enable you to have your prints mounted and framed in a range of 4 solid wood frames. For further details please just ask.
If you like the style of prints we create and would like a personalised print designed just for you please contact us and we will be happy to discuss your ideas further.
Made with love in the heart of Hertfordshire.