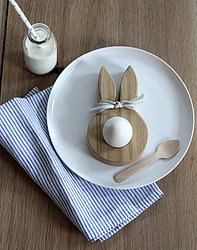 At Hop & Peck our design philosophy is simple: beautiful, traditionally-inspired wooden toys and gifts, designed with a contemporary twist and lovingly handmade.
Our product range combines bold, bright and vibrant colours with the sleek, natural finish solid oak, ash and beech wood. A blend of traditional materials and modern ergonomic design makes Hop & Peck's product collection both beautiful and fun.
Little fingers and minds will love exploring the chunky, simple shapes of this contemporary range. Every product is designed to be functionally aesthetic, to have smooth, fluid lines with child-friendly grips - making the Hop & Peck collection a celebration of good old-fashioned play!
Every product is carefully handmade and quality is fastidiously controlled so only the best product is delivered to you. However, please be aware that because wood is a natural material, our products vary slightly in colour and character, making each one unique.