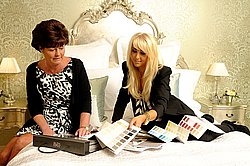 HollyAnna is a luxury interior design company recently introducing some of our favourite furniture and accessories available for you to buy online. At HollyAnna, our core focus is taking high-end unusual and beautiful pieces and making them affordable for more people to enjoy.
All our products are for design lovers in search of chic, modern, unique, and beautiful living. HollyAnna is a haven of inspiration and creativity with a collection of home accessories, furniture, carefully selected gifts for her, whilst happily mixing together inspiring European designs with the best of chic French home wares.
No crowd, no noise, no parking ticket, no heavy bag to carry... pure bliss!