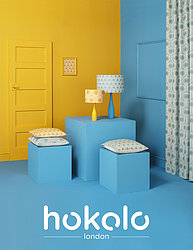 Hokolo is a design led label based in London. Hokolo's products appeal to individuals who treasure and appreciate good designs.
Hokolo designs feature unique striking prints and patterns that are fun, colourful, quirky and quintessential British. The brand has a strong distinctive graphic influence.
Our vision is to create designs that are beautiful, edgy and most importantly express a strong unique identity, bringing joy and pleasure to those who love Hokolo.
Hokolo's first collection was inspired by the British Crown Jewels, incorporating the motifs of the crown and the sovereign orb, to create a fresh take on these traditional emblems.
The limited edition Christmas collection features some of the best loved symbols of the British Christmas including Brussels sprouts, cranberries and roast chestnuts arranged in witty and striking geometric patterns. A playful screen printed reindeer design has been created from a stylish pattern made up of reindeer antlers and a puffed up red nose.
The latest English Breakfast collection plays on strong graphic qualities of fried eggs, tomatoes, blueberries and orange slices set against colourful backdrops and gingham inspired patterns reminiscent of the breakfast table cloth and jam jar tops. The designs are bright, modern and playful.