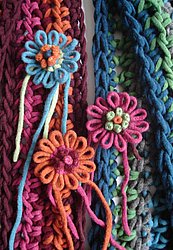 High Fibre designs distinctive handmade accessories to wear and for the home created from our unique knitted yarns.
Using 100% lambswool spun in Scotland, the yarn is first knitted on machine at the Norfolk-based High Fibre studio and then felted before being designed into individual handmade pieces in carefully selected colourways.
Inspiration for the collection comes from a love of handling materials, playing with colour and rediscovering traditional handicrafts, experimenting with our signature yarn to produce textiles with a contemporary twist.
The range is wonderfully soft and tactile and includes hand knitted and crocheted accessories, unusual felted jewellery and three-dimensional hand-crafted cards.