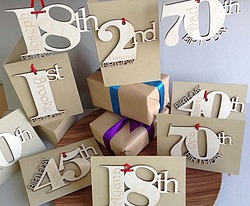 Hickory Dickory Designs are based on the south coast of England. All of our products are designed, produced, individually painted, cut engraved, decorated, assembled and packaged by us right here in the United Kingdom.
Hickory Dickory Designs offers you an array of individually made thoughtful gifts ideas for christenings, birthdays or the finishing touches to your little ones bedroom or playroom.
Add a little identity with our room door plaques, capture your child's rapid growth on our stunning children's wooden height charts, ".. a piece of art" as described by our customers.
Cards, & gift tags add the finishing touches to any special gift. We only use top quality materials, solid pine and birch plywood we never use MDF. Each one of our products is handmade especially for your order, so we know when you receive it you have something totally unique.
We have developed a new range of celebration cards, to develope our product range we enrolled on a Graphic Design course in September 2013 where we have started to use a mixture of typography and engraving to design a unique range of Birthday and Anniversary Cards. These sit along side our hand painted range of Height Charts, Clocks, and Name Plaques.
We have being disappointed with many shop products that are made quickly and in large quantities, we wanted to design and make individual, unique products specialising in gifts for memorable occasions. We use top quality materials and take pride in offering a truly individual service to our customers.