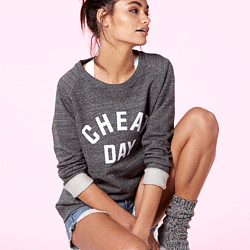 We are Hey! Holla, the fitness and lifestyle destination for fit and fabulous foxes!
Ethically sourced, high quality, practical products with fun, cheeky designs, Hey! Holla is for the every day health hustling gal!
Fitness doesn't have to be about pounding a treadmill, we encourage you to find your own fit and get your sweat on in whatever way you enjoy. Mix it up, grab your friends, make it fun and train to your own tune to achieve YOUR personal best.
Our super­sized fitness totes pop with neon colours that are as bold and bright as you are! Featuring inspirational words for your workout, these big, bad ass bags are sure to inspire even the most reluctant of gym attendees! Add some of our kick ass accessories to complete the ultimate fit kit...providing Fitspiration for the Nation!
Check out some of the lovely feedback we've had! (See customer comments of the left menu for more!)
Drop It Like A Squat, Gym Tote - Awesome bag. Fast delivery
'No Sweat' Neon Coral Gym Towel - "Lovely towel, using it on my gym trips just the right size what I've been looking for!"
Cheat Day Organic Cotton Blend Sweatshirt, Strawberry - "Nice material - just what I wanted!"
No Kink Hair Ties, Blonde Basics - "Great hair ties!"
You Do Run Run Run, Gym Tote "Good quality fabric, excellent printing"
Yoga Bag, Gym Tote - "Got as a gift for my friend who is training to be a yoga teacher. She loved it!!"
Namaste Or Should I Go Now? Yoga Bag - "Lovely strong bag, with cheeky design. Handy inside pocket for keys and phone"
I'm Off To The Gym, I Am, I Am, I Am, Gym Tote - "Best gym bag EVER"
Fit Kit Gym Bag, Pink/Purple - "Great bag - already have one and bought this one a present"