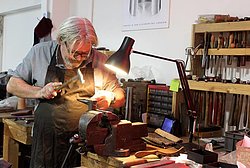 M. C. Hersey & Son Ltd are silversmiths based in London manufacturing sterling silver tableware as well as jewellery, contemporary silver and personalised engraved gifts for all ages. All our silverware bears our own hallmark and our expert, on-site engravers can quickly inscribe a date, name or message of your choice that make each gift more personal.
The founder of the company, Michael Hersey, established the business in 1971 having served 17 years as a silver spinner in Soho. His son, Stewart, joined him in 1981 after training as an apprentice silversmith and at the John Cass Art School at London Guildhall University. He has since taken over the business, moving it forward and bringing new designs with him.
The company prides itself on customer service and fast turn around for special gifts, for Christenings, Weddings, Birthdays, Valentines or Christmas we can normally despatch the same or next day, even for personalised items.