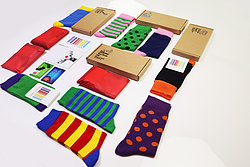 Henry J Socks sells socks. Not only do we sell socks we sell socks in a unique and fun way, with a sock subscription service!
These are not any old socks, they are fresh, funky, fun and fabulous socks which make great gifts for family and friends of all ages. Giving socks as a gift is both practical and thoughtful, and you may now buy socks direct to give to the lucky recipient, or enjoy the very novel, yet very handy, sock subscription service for yourself.
This is much more useful than a magazine subscription (who has time to read magazines?) or another box or three of chocolates, and couldn't be easier to set up. Yes, no more frustrating single socks leering at you from the laundry basket; with a couple of quick clicks your sock drawer will be filled once more with row after row of comfortable, paired up socks.
For top quality, colourful, well made socks in a flash, Henry J Socks has everything that you (and your friends and family) need.