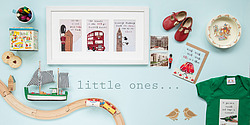 Helena Tyce Designs is a small design studio based in Nottingham. We specialise in beautifully illustrated prints, stationary and gifts for children and between us we have 6 gorgeously bonkers children so there is always plenty of adventure to inspire us.
We create timeless illustrations by merging classic stories and words with hand drawn imagery. These illutrations are designed with prints, greetings cards and clothing in mind resulting in truly unique gifts with a strong British heritage. We're proud to still be drawing, painting and mark making and we know this lends our work authenticity & warmth.
We are pariculrly passionate about personalised work and have been asked to create many heirloom and keepsake prints. It's always a priveledge to be asked to be the creative person behind a very special gift. And from beginnning to end we make sure that every fine detail is catered for.
We've sold our best selling designs in both John Lewis and in Liberty but we've found that we prefer dealing directly with customers and love the freedom and speed this gives us. It means we can provide a more responsive & individual service and that makes us very happy.
What people have to say about Helena Tyce Designs:
Loved working with Helen on this project . She is quick to respond and extremely helpful. We did invites and party bags for our little boys first birthday. Quality is excellent.
Absolutely love these prints. Really original design and beautifully framed...they look gorgeous in my baby son's nursery!
Thanks for your prompt delivery. the posters crossed the international seas undamaged...
The card arrived very quickly and is a great idea. Great service indeed and fab quality.
Sorting the birthday invites was like seeing Helena face-to-face - she was so quick to respond and the result is beautiful, I'll have to fight my 5 yearold to hand them out! The quality is very good and the invites are so lovely - thank you!
Great quality t-shirt and fab design!
Lovely print for my little boy's bedroom - initially bought two and so pleased with them, I was soon back for more!
Beautiful choice for our daughter's nursery. Happen to be her favourite nursery songs! Would suit most decor & we've had lots of compliments. Prompt delivery & packaged flat to prevent furling at edges. Thank you.
A gorgeous, gorgeous print, looks beautiful in my baby boys room - fantastic that it fits a standard A3 ikea frame too!
Just come back from a few days in N Norfolk to a very welcome envelope. The print is superb as always. Just a little note to say a massive thank you to you, for your generosity and thoughtfulness. Thank you again.
So pleased with the pictures, have had lots of amazing compliments, just beautiful. They make my little boys nursery so special.
Absolutely fantastic wrapping paper. Communication with the owner was brilliant. Very happy customer and I would highly recommend their products.
It was a lovely print and I was so pleased with it. I paid extra to have it framed which was well worth it.
Beautiful prints that look lovely in a chunky white frames in the twins nursery. Looks perfect with 'the wheels on the bus' & 'Hickory dickory dock'.
The bus print is just stunning and being a transport mad boy he loves it! The quality is amazing and the personalisation makes it even more special - a gift we treasure
The design and colours are so stylish, eye catching and original, we are thrilled. Thanks so much
Beautiful picture - it was a perfect gift . Gift wrap was a lovely addition too making it extra special. Simply perfect thank you.
Excellent service, lovely quality product, would definitely recommend
Love the presentation of the order and also good quality product. Good communication with seller.
'I ordered two of these prints, one of the soldier for my son and one of the bus for my godson, both are beautiful and a fantastic keepsake and gift. The seller is also very easy to contact and is really helpful.'