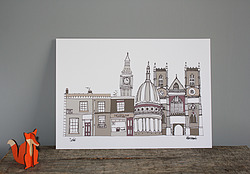 Helena Carrington is an illustrator based in Norwich, creating distinctive and brightly coloured illustrations and designs for homewares and prints, inspired mainly by travel and cities around the world.
Buildings and architecture are a main feature of the designs, inspired by travels and the architecture of cities and towns.
Helena draws all illustrations by hand before adding colour digitally, and all products are printed and made in the UK.
The range includes illustration prints and greeting cards, stationery, cushions and homewares.
Commissions can also be taken for illustrations or personalised prints - a house portrait, favourite building or city for example.