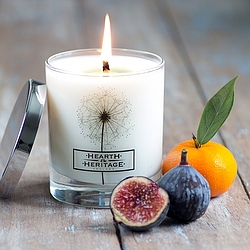 Inspired by British Heritage and our beautiful location in The Vale of Belvoir we have developed a wide array of evocative fragrances that indulge the senses and invoke nostalgia.
For our candles; the Natural Wax bases are derived from sustainable sources and are hand poured and burn beautifully to deliver a long-lasting potent fragrance and optimum burn time.
New for 2015 we have launched a range of beautiful Room Diffusers in our favourite fragrances and also in our 3 new scents for Spring Summer.
Our Lotions are the purest, natural high quality bases we could source, then mixed with our signature scents to produce rich, long lasting body lotions that envelope the body with a lingering aroma of each of our signature scents.
We have developed a small range of Wedding Favours and Gifts too, our Scented Votives are very popular, printed with the Bride and Grooms details, we accept comissions also, contact us for details.