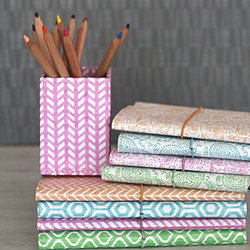 We love print, pattern and colour!
Whether you have a dedicated home office or a nook under the stairs our beautiful and unusual home office, stationery and storage products will make your space both inspiring and functional.
Our love of colour and pattern ensures a range of designs from elegant to contemporary in gorgeous shades with exquisite patterns that you can mix and match to suit your space and taste.
Kind to the environment all of our products are handcrafted from 100% recycled material and hand screen printed using eco-friendly dyes.
Our ethos is simple; beautiful products which are kind to the environment at sensible prices.