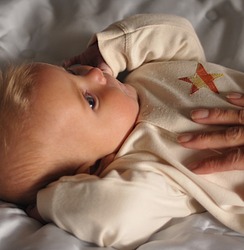 At Hay Baby, nothing we make is mass-produced so it's a great place to find a special gift for babies and children. All the fabric and knitted items are handmade in Herefordshire by me, Emily Penrose, or my small team of knitters. The toys we sell are sourced from ethical companies in Europe.
I started my business in Hay-on-Wye (hence the name) on the Welsh Border and now live a few miles away on the English side. I inherited a love of fabric from my mother, who made us lovely clothes when we were little, and I am an incurable hoarder of old jeans and tweed skirts, mattress ticking, velvets, woollens, corduroys, cottons and silks.
I also love the traditions of patchwork and women sewing for their families. By using vintage and recycled fabrics and buttons for the appliqué, we are recycling and giving pre-loved material a new lease of life.
At Hay Baby we take a real pride in the quality of our work and are dedicated to providing the best personal service. Most items can be personalised so do get in touch if you're looking for something a little bit different.