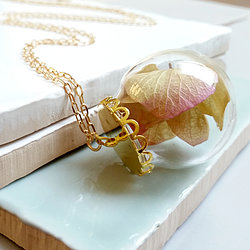 Welcome to Hart and Bloom jewellery!
Hart and Bloom started life late in 2010, when Aimee Anderson decided her passion for crafting handmade jewellery was getting far too big for its jewellery box. It was time to take this show on the road, and Hart and Bloom was born – selling first on the burgeoning London craft market scene, as well as online.
Today, we offer the same lovingly crafted pieces – all made in Aimee's home studio in the depths of Surrey.
We think all jewellery should include a touch of frivolity, and so we aim to add an element of delight to all Hart and Bloom pieces. Ingenious wearable terrariums sit alongside birthstone jewellery. Inspiration is taken from the natural world, encompassing minerals, animal motifs, mosses and flowers.
Many pieces can be personalised with an initial or with adding one of our special greeting card inserts, for a truly meaningful gift. All Hart and Bloom jewellery comes boxed, with the option of including free gift wrap and message.