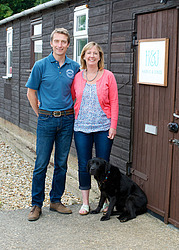 Harris and Jones was started by my husband Steve (Harris) and I (Vanessa nee Jones) 2008. We decided that we wanted to run our own small, rural business and be involved with products that were useful, beautifully made and that had provenance.
After much deliberation we decided upon luxury, handmade home and desk accessories. We started making the products ourselves using a few traditional tools and a very noisy gluing machine which was placed on top of our family dining table. Using the spare room as an office and the utility room for packing Harris and Jones was launched.
These early days seem a long time ago. We thankfully have the family dining table back now having moved the business into a rural workshop a few miles away. We have collaborated with some celebrated British designers such as Nina Campbell, Neisha Crosland & Colefax and Fowler that proved successful and we continue to work with both established and new, promising designers. We have supplied luxury retailers such as Harrods, Liberty and Fortnum & Mason with our collections as well as many smaller, independent family run retailers.
Like any business, it is never plain sailing but we never stop appreciating the fact we love what we do.