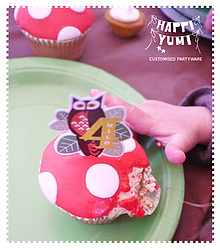 A warm hello from Happi Yumi, we're excited to meet you on notonthehighstreet.com.
Happi Yumi is a bespoke design service, based in Little Chalfont in Bucks, specialising in personalised, playful stuff for your celebrations! Everything is individually designed and customised, before it's printed and hand-finished, and we have a lot of fun doing it. They say 'do what you love' and 'enjoy life's special milestones' and this is the secret ingredient behind Happi Yumi. It's nice to personalise products that aren't just mass-produced and rolled out of a factory. Every package goes out with a lot of love.
Inspired largely by the gorgeous big and little people in our lives, there are some great ready-to-personalise ranges of partyware for your event. After the last of the cake crumbs have been swept away, our customers often keep our products in their children's keepsake box or as a memento. But the bit we love most is that we contributed in making your day, your celebration, that little bit extra gorgeous.