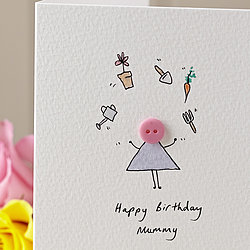 In 2000 Hannah Shelbourne started creating individually hand drawn and painted greetings cards. Since then her designs have been stocked across the UK and taken pride of place on mantelpieces across the world!
As each card is drawn from scratch onto quality watercolour card, they are all unique and can be personalised with any message. You won't find cards like this anywhere else - take a look at the range today and discover what truly personalised cards are all about.
Hannah welcomes large orders of cards for wedding stationery, parties and announcements. Designs can be adapted and created to suit your needs. Please contact her to discuss details and discounts.