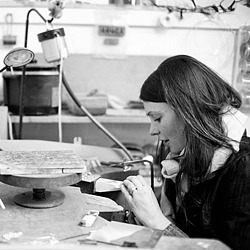 A graduate of The Royal College of Art (2004), and Glasgow School of Art (2000), Hannah Louise Lamb has exhibited her jewellery internationally and now works from her studio in Edinburgh. A sense of beauty and perfection, an eye for detail and a strong sense of place all combine in Hannah's jewellery to create unique, highly desirable and wearable pieces, combining silver and gold with precious and semi-precious stones.
The skills Hannah employs in making her jewellery are rooted in traditional fabrication techniques and quality workmanship, focusing specifically on intricate hand-piercing and cut-outs. Her designing is intuitive and inspiration for her pieces is found in coastline maps, pattern, colour and associations with her childhood in Cornwall and her home in Scotland.
Hannah works to commission and is very happy to make personalised designs, including her iconic coastline rings and cufflinks based on a personalised coastline map.
Please note that Hannah will be on Maternity Leave from mid-February so delivery times will be longer once the new baby has arrived!