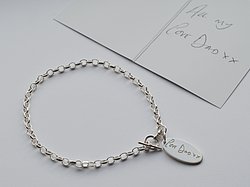 Handwritten Love is a jewellery line that brings you beauty, connections, memories and love! Capture your handwriting or a loved one's in precious metals for a lifetime.
Handwritten Love is run by contemporary silversmith Bethan Carr. Bethan works from her studio in Bristol to create unique pieces of jewellery.
Each piece of jewellery is finished by hand working in precious metals and semi-precious stones, every single one is a unique, one of a kind piece.
Love for Eternity - capture words of love for the lovers, warriors, heroes and heroines in our lives.
Love Those Who Shaped Our Lives - in memoriam jewellery to capture memories of our loved ones.
Love our Friends - send a handwritten message of love to those who support us, love us and give us joy.
Love Yourself - affirmations, quotes, words that hold meaning for us, captured in our handwriting.
Love and Wisdom - words of wisdom to friends, daughters, sons, nieces, nephews, grandchildren, send them messages from the heart in your own handwriting.