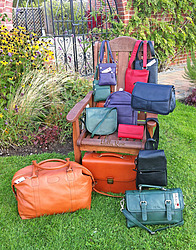 Hello and welcome, the story behind my storefront began when I left university to design for the family business which has been specialising in the retail of leather goods for 25 years.
With British Heritage at the heart of my designs I have introduced a range of traditional, practical and timeless styles in deep browns and rich cognacs. Whether your looking for a traditional leather holdall or a leather bag for your daily adventures I have a wide range of premium leather products for you to choose from.
The first Holly Rose collection was launched in 2012 and has since expanded to include a range of leather accessories and gifts for men which I have branded as Rowallan to add some masculinity to the designs. I link my two collections with a simple R in my design emblems to tie together both the Rose and Rowallan elements.
Our uncompromising commitment to quality means that every hide used is hand selected by me to ensure my customers recieve a unique product which looks good and feels great.
Ciccia the cat has also joined my storefront collection and features a range of British inspired scenes including the Country Cottage and nostalgic Punch and Judy collections.
Thank you for visiting, Love Holly xx