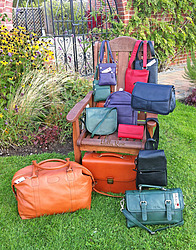 Hello and welcome to my storefront.
On leaving university I joined the family business which has been retailing leather goods for over 20 years and designed my own range of quality leather handbags and accessories.
The first Holly Rose collection was launched in 2012 and now offers a range of traditional, practical styles handcrafted from genuine leather. Each hide is hand selected by me to ensure my customers recieve a unique product which looks good, feels great and lasts a long time.
Ciccia the cat has also joined my storefront collection and features a range of designs inspired by British heritage such as the Country Cottage and nostalgic Punch and Judy collections.