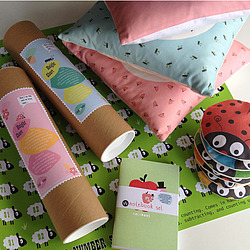 Hello! I'm Frances Chalet, and this is halfpinthome – where my illustrations come to life as cute things for kids!
With a background in fine art, design and three children of my own, there came a point I couldn't help but day-dream of creating home wares, gifts, craft activities and educational aids for them – items that would inspire them, open up their imagination and, of course, encourage them to play and have fun!
Little did I know that those day-dreams of fun and functional home ware for kids would become something that I would nurture and watch grow alongside them.
My range now includes everything from cushions and bunting to cards, prints and party invitations. The cute characters I create are a key ingredient in each design, and I love to play around with bright colours.
Everything, including the unique fabric, is designed by me to be as cute as can be! Personalised items are handmade in my studio in York. As a mum, graphic illustrator and designer-maker, each item needs to be useful, super cute and robust. Those three things form the heart of halfpinthome.
As more of those day-dreams become real, I'll be adding new stuff for those of us who might enjoy a whole pint too!