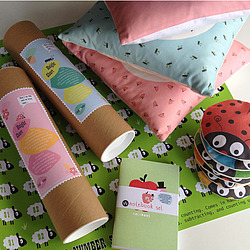 Half Pint Home started in 2012 as a tiny sewing desk in the corner where I used to make bunting any time the kids were happy and I could stop for awhile. It's changed a lot since then and I've loved seeing it grow, along with my kids, who constantly inspire me with their drawings and antics!
There's rather more than just one desk now, and a fair few shelves (plus a pile of boxes, OK, several piles of boxes) but I still work from home and absolutely everything is illustrated, designed and packed for shipping by me. I still make each and every one of the personalised cushions, so you'll always have a consistent HPH feel with unique hand cut felt lettering, but I do also have a brilliant assistant who helps to sew non-personalised items. She's a legend - the bugs and I would be quite lost without her.
Along the way HPH has been lucky enough to be seen in Ideal Home, Yorkshire Life and The Telegraph Magazine, which has been very lovely indeed.
From the seed of an idea to the finished product, it's all me, and it's always an epic adventure to get there - I hope you like your happy post delivery as much as I enjoyed the journey to make it possible!
Fran (....& the menagerie!)