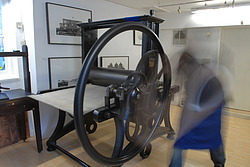 I am a fine art printmaker, painter occasional collage maker. My prints are primarily etchings which are made on copper plates and hand-inked and printed on a press dating from the 1830's. Editions are kept to a limited number. Paintings and collage pieces will be one-off pieces or variants on an idea.
I work and draw from an eclectic range of sources that include literature, music, film as well as an active engagement with the study of art history, both Western and Japanese. Other influences come from observing and experiencing both urban and natural environments. The experience of various situations are also key to some of the ideas behind the work.
I have been fortunate enough to have travelled to countries such as Iceland and Japan and they have provided important influences and experiences upon myself and my artwork.
My work has been exhibited in the UK, Iceland, Japan and the United States.