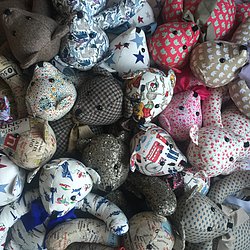 Every now and again the need to write a little blurb about something arises. This task can be a little humorous and frightening. This is my latest attempt!
The saying goes 'if it wasn't for the last minute, nothing would ever get done' and this is what led to the first teddy being made, in a moment of panic and desperation. A week before Christmas, as I stumbled around my studio hoping to come upon some inspiration for a Christmas gift, I found an old pattern for a teddy bear. Many hours later the bear was made using a very unlikely material as far as teddy bears were concerned. It was boxed and sent off. Many months later after the chaos of Christmas and the New Year were over, Grin & Bear was born.
The principle behind Grin & Bear was very simple, to design beautifully crafted and completely unique teddy bears.
Feel free to check out my website www.grinandbear.london for more information of my bear world