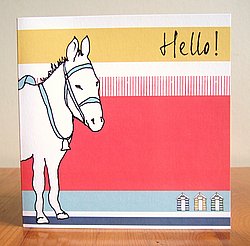 Greetings cards by Natalie Turner is the home of fun and quirky greetings cards for many occasions.
I love creating exciting, fun and original greetings cards from my studio in rural Kent. Inspiration comes from many different sources, anything from vintage lacework to Blackpool donkeys to sausage dogs. All the imagery and patterns are lovingly drawn by hand, which are then edited and finally digitally printed onto 310gsm card.
The range of cards reflect my love and passion for colour and pattern and incorporate aspects of my personality. The range includes birthday, anniversary, Valentine's, just to say and blank cards.
I hope you enjoy sending and receiving my cards as much as I love creating them.