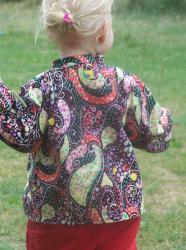 A bright collection of funky & fun children's clothes in a riot of colours for newborns to four year olds.
Set up by Hazel after the birth of her daughter & with 15 years working in womenswear as a buyer she had the ideal background. She wanted clothes that were bright, comfortable & would bring a smile to people faces, as well as stimulating to the wearer!
All trousers have wide elastic waistbands, so no digging into their little tummies & allowing for snappy nappy changing as well as easier toilet training! And you can fit a cloth nappy underneath!
They offer many fabulous packaged gifts like kimonos in sushi boxes, bibs in Chinese take away containers – & have 'mummy & baby' kimonos too!
Freedom to grow, stretch, giggle & wriggle is the essence in alldesigns.Everything is made with love in the UK employing UK workers in factories based in the north of England as well as dedicated skilled hand knitters ( yes proper old fashioned handknitting - using their hands and needles - no machine knitting here!) in there homes across the country(expect the ponchos which are expertly knitted in the home of the poncho - Peru! - employing a handful of mountain tribes people under Fair Trade conditions).
Even wonderful vintage inspired aprons to keep your personal frocks clean whilst messing with and feeding the wee ones!
So please support your fellow UK workers and buy from a truely British company trying to keep some of British manufacturing and their skills alive.
Most importantly have a most happy, hoppy day is their message!