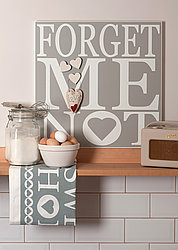 We produce a growing range of interior accessories, often with bold prints and text - we hope you like them!
Green & Co. was set up in 2010, initially producing a range of magnetic notice boards. These were designed by ourselves and manufactured locally in Yorkshire. We have now ventured further afield into a wider range of homewares, predominantly featuring typographic designs. While still designing everything ourselves, we now work with partners across the UK. Sticking to our original approach of using text to create bold imagery, we have looked to apply this to our new products.
All our products are, and to our best endeavours, always will be produced in the UK.