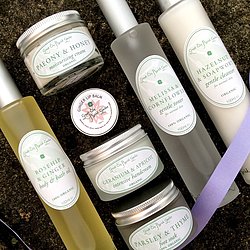 SIMPLY BEAUTIFUL ORGANIC SKINCARE.
FROM THE ENGLISH COUNTRY GARDEN.
Multi-award-winning. Little Herbs for waiting mums, new mums - and their little ones. Great Elm Physicks for young women, grown women, and men.
Come with us to the English country garden, experience all its tranquil beauty, wonderfully beneficial plants, and gentle healing.
This is the glorious inspiration for skincare that feels and smells utterly fabulous, and does you (and your little ones) a power of good.
We create the simplest, purest, recipes because our skincare can then do its utmost for you, your body and your inner beauty.
We are super-strict in avoiding unnecessary artificial additives.
We NEVER use mineral oils, lanolin, alcohol, colourants, phoney aromas, fillers or synthetics.
We test only on willing human beings. Never on animals.
We make all our own products here in Somerset by hand, in small batches. With love.
The Independent "10 Best" series winner. Green Parent Awards 2013 and 2012 - double winner.
FROME LIFE Editor's Best 2013. BATH LIFE Editor's Best -double winner.
Natural Product Awards 2011 - double winner
Bath Life: Health & Beauty Award - Best Company Winner 2009 - public vote .
MOST INNOVATIVE GREEN PRODUCT award winner 2008. Best organic product: two awards 2006.