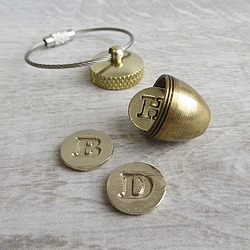 Gracie's Brighton studio is a neatly ordered Aladdin's cave. Rolls of fine leather cord hang from wooden spools. Miniature chests of drawers reveal rows of silver spoons and shiny glass boxes hold vibrant gemstones and ornate silver charms
Having trained in jewellery design, silver smithing and textiles, Gracie's career has evolved from when she ran her own shop in Hove. It is from these roots and with her passion for objects with character and history that she has built her jewellery and accessories collection. Vintage fabrics influence her greeting card designs, and re-found objects like Victorian keys and precious shell buttons inspire her jewellery ranges.
Gracie sources all her materials carefully and creates each and every design herself. Soft new leather is soaked and stretched on an old oak block, before being gently engraved. Rivets are tapped and silver is buffed and polished by hand. This attention to detail ensures the originality and high quality of her collection.
Many pieces can be transformed by adding your own personalised message, for a truly special and unique gift. Perfect for remembering moments shared with a significant date or loved ones names and special occasions.
Gracie's jewellery and accessories are beautifully packaged in a gift box or satin pouch with a bow, and can be sent with a hand written message directly to your gift recipient. Or why not use one of her fabulous greetings cards to finish a present perfectly.