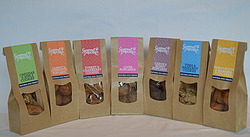 Gourmet Pupcakes™ is a natural dog treat bakery, based in Berkshire, and we are a DEFRA approved pet food manufacturer.
Gourmet Pupcakes™ was inspired by our dog Holly, because we were so disappointed with the poor quality treats available on the market; they not only had a low key ingredient content, many contain unneccesary sugars, salts, flavour enhancers, colourings and chemicals to keep the treats on the shelves for years. So we decided to make our own, a much better alternative!
All our treats are made with love using high quality, human grade ingredients and we do not use hidden nasties such as preservatives, colourings, salt or added sugar, and so are enjoyed as a fresh and tasty treat, just how we would want to enjoy a treat from the bakery! This is why even the fussiest of dogs enjoy our Pupcakes™ and cookies, because our treats are fresh, full of flavour and contain a very high key ingredient content, and they are all yummy and interesting flavours! Because we only use high quality, human-grade ingredients, you may even be tempted to try them yourself!