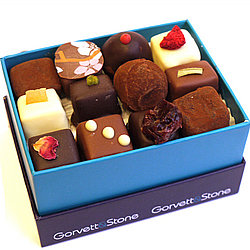 Ardent enthusiasts of the brown and white gold will be only too aware of a small yet beautifully formed artisan chocolate emporium called Gorvett & Stone.
Using the finest Valrhona chocolate and a fine 'supporting cast' of ingredients including locally sourced fresh cream and honey, Argentinean pears, Spanish orange peel, fresh garden mint, Arabica coffee and Californian walnuts we provide enough inner refinement to indulge even the most cultured chocoholic.
Founders Matt & Elinor first met over a few bottles of wine (a few thousand to be more accurate) during their former lives at a well-known wine merchant. They bonded over taste for the finer things in life, and Elinor whisked Matt away to travel around the world for some therapeutic winding down, whilst they wondered what to do next. The answer as we all now know was chocolate! Chocolate like wine is something that can be instantly appreciated, yet only fully understood over the fullness of time.
All of our products are handcrafted in our little shop in Henley-on-Thames, from our award-winning fresh cream truffles, to our fabulous homemade honeycomb.
Gorvett & Stone has been recommended in such publications as The Financial Times Magazine, The Independent's 'I' Newspaper, and The Observer 'Life & Style' Magazine.