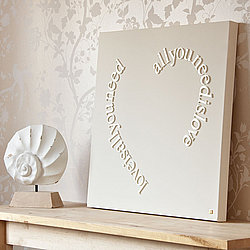 Gorgeous Graffiti, a design studio based filled with only the most lovely of things and with an enviable reputation for unique and elegant contemporary wall art.
Born out of a love for all things creative and tired of seeing the same old 'everything' in every shop we have created a portfolio of stunning designs which we believe are truly unique and quite special indeed.
Hand-crafted exclusively to order, every one of our gorgeous designs are lovingly designed, made and hand-finished to the absolute highest standard here in th UK.
All of our designs are finished with a gold coloured signature tag detailing our initials 'Gg' then hand-glued into position before we hand-apply the gold lettering in your personalisation.
Our work truly is a labour of love but we adore what we do and are very proud of every one of our Gorgeous Graffiti designs. We are absolutely determined that there are no love-less mass production methods used here and that by hand-crafting every one of our gorgeous designs that you are absolutely assured of your very own and very unique piece of Gorgeous Graffiti.
As our many many customer comments will testify, we are truly passionate about creating gorgeous designs of the highest quality and exceptional standards of service.
Thank you always for believing in what we love doing,
with love Gorgeous Graffiti x