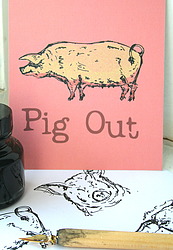 Goodnight Boutique has been creating things which are cute, charming, and nostalgic since the summer of 2011. Its brand new range, 'Great & Small' is inspired by the British countryside and all the wonderful creatures you can find living there.
Goodnight Boutique wants to share with you the stories from the woods and farms that lay scattered across our lovely land. With cards, tags, prints, pocket mirrors and notebooks, all featuring original illustrations: Fox, Mouse, Pig, and all their pals, hope to get to know you, and brighten up your day with their cheerful, often comic, always lovable, expressions and sayings.
The chums are very glad that Laura, a longtime devotee to all persons endowed with fur, feathers, and whiskers, was inspired by the rural surroundings of her cottage to capture a little of their hidden world. This is done through detailed drawings in black ink, which she then edits and brings to life with bold colour, and the witty slogans so graciously provided by the animals themselves. Every drawing is undertaken with warmth and care.
Fox, who is a very clever, crafty fellow (and who is quite sure the range was all his idea really) knows that you will be unable to resist so many cute little faces, and after all, who can blame you?