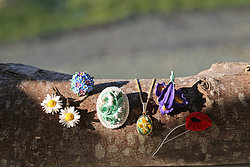 Good Intentions have specialised in the design and manufacture of hand-painted flower jewellery since 1986 when Camberwell School of Art educated Carol Hurst joined forces with Mervyn Jones who had extensive experience working in moulding and casting using polyester resins.
Using a tough reconstituted white stone compound and polyester resin painted with specialist high quality acrylic pigments, they combined their skills with their love of gardening and nature to make their unique collection of British wild and garden flowers. Each item is hand made and individually hand painted at their Welsh studios. Many of their jewellery components are made exclusively for them in the UK.
Their jewellery collection comprises matching brooches, lapel pins, earrings and pendant necklaces and each item is supplied in an attractive box.
The jewellery can be gently hand washed.
They are proud all their products are still made in Wales despite pressures to take production to China and every item has 'Made in Wales' on the box.