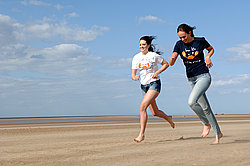 Gone Crabbing is based in Norfolk and creates a fun and totally unique range of clothing and gifts. Created in 2008 by Susie Mason, the bright, colourful and innovative designs feature across the clothing range, kitchen textiles, mugs, stationery, bathroom gifts and so much more - all inspired by Susie's love of our beautiful British coastline.
The products are designed in Norfolk, and the Gone Crabbing team ensure the quality of the range is second to none. All hoodies and t-shirts carry Gone Crabbing's own label and the printed designs are crisp and durable. All giftware is carefully sourced and complements the fun and vibrancy of the clothing collection.
Whilst embracing her Norfolk roots, Susie has introduced a Gone Crabbing National range of aprons, tea towels and oven gloves, celebrating our great British heritage and much-loved national dishes.
'Bred n born' in Norfolk, the Gone Crabbing range is designed and created with a passion for all things British.