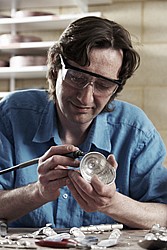 Ed & Judy Glover (Nee Smith) design and make their award-winning designs in their Wiltshire studios. Each piece is lovingly hand-crafted from lead-free pewter which does not go grey like old pewter. Glover and Smith was established in 1994.
Ed achieved his degree in art and design from Farnham Art College and Judy studied textile design at Manchester University. Their work is collected and treasured by many both here and abroad.
Lead-free pewter is very environmentally friendly and is the favourite metal of the WWF. Glover and Smith also supply Highgrove, The National Trust and selected independant retailers throughout Britain.