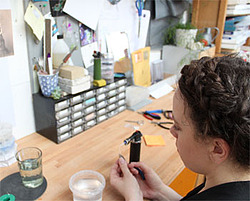 Largely self-taught, Kate Wood makes contemporary beaded and chain work jewellery which is admired for its delicacy, intricately detailed finish and lightness of touch.
After graduating with a French degree Kate worked as a museum curator before turning her passion for jewellery-making into a career in 2005. Selling her first collections at London's Spitalfields Market, she attracted a loyal clientèle and attention from boutiques and galleries soon followed.
The subtle, harmonious shapes of Kate's beaded designs take their cue from natural forms and textures, and incorporate her love of beautiful gemstones and vintage glamour. Each piece is meticulously constructed by hand from multiple tiny beads, which are wrapped and 'woven' onto chains with hand-made silver pins.
After 5 years at award-winning creative hub Cockpit Arts in London's Holborn, Kate is now based in the vibrant city of Bristol in the South West of England.
Bespoke commissions are welcomed, whether you're planning your wedding and need something special to complement your dress, or you just want to treat yourself or a loved one. Just contact me (click on 'ask the seller a question', which is available on each product page) and we can discuss your requirements and work together to create something you'll love.