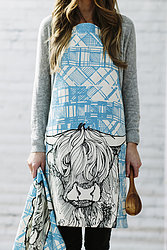 Hello, I'm Gillian and I've had a passionate love affair with drawing since I was a little girl! I've always wanted to be my own boss (the term 'unemployable' has been used in the past!) and couldn't wait to set up my own design business after graduating from Glasgow School of Art, with the aim of celebrating Scottish and British-ness in a modern, quirky and witty way.
I create unique, beautiful and often humorous images using pen, ink and paint from my studio near Glasgow - that's the bit I love the most. I then use a little computer magic to turn my drawings into print designs and use them to adorn a wide range of gifts, homeware and accessories.
8 years on and I'm now a married mama of 2 beautiful baby boys, a homeowner, and have started baking my own bread! Its been a wonderful, rollercoaster ride; every week brings exciting challenges and opportunities. The business has gone from strength to strength and I'm delighted to find that I'm still brimming with ideas for new designs and still get the biggest buzz from growing my business and creating lovely products; I hope you like what I do.
So, whether you are looking for the perfect gift for the person who has everything, a nostalgic reminder of home for someone living far away, or just something fabulous and fun to brighten up your own wee world, you'll l find it here.
Enjoy browsing,
Gillian x