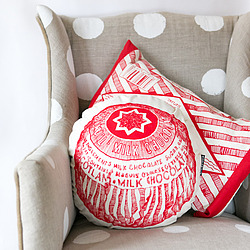 Hello! I'm Gillian and all this silliness is down to me; I hope you like what you find here. I'm a Glasgow girl and graduate from Glasgow School of Art with a passion for illustration and print. From humble beginnings drawing and screen-printing at my kitchen table just after graduating, things at Gillian Kyle have gone from strength to strength and we now sell our wares all over the UK and even as far away as New Zealand and Japan.
We're proud to have won the affections of Scots and Brits worldwide; and even Mr Tunnock himself. Every design starts off with my hand drawn illustration in pen and ink (my favourite part of the job). I then use a little computer magic to create the finished image before it's screen-printed onto cotton, china, melamine or paper by one of our brilliant UK manufacturers; we are passionate about supporting Scottish & British industry and maintaining so all of our things are carefully crafted in Scotland & the UK by family businesses.
Inspired by the charm and eccentricities of ideas of national pride and popular culture, I have created a quirky and humorous range of hand screen printed cotton and canvas tote bags, aprons, tea towels and t-shirts of the highest quality, all featuring my own original illustrations.
So, whether you are looking for the perfect gift for the person who has everything, something evocative to send to someone far from home, or just something fabulous and fun to brighten up your own wee world, you will find it here.
Enjoy browsing,
Gillian x