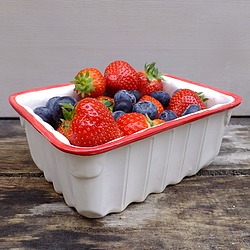 Hello there!
Gilbert and Stone ceramics are handmade in our micro-manufactory in Perranporth, Cornwall. We make all our pieces using traditional methods and our own 'secret' earthenware recipe, which includes natural ingredients taken from the Cornish clay pits just a few miles down the road.
From mixing up our silky smooth casting slip (which fires to a dazzling white), to casting, fettling, cleaning, decorating and glazing, each step of the lengthy making process is handled by a skilled craftperson.
Our finished products are quirky and modern with a quality handmade feel (we like to keep our designs simple, with pops of bright colour). As the Osmonds would put it, 'we're a little bit country, a little bit rock 'n' roll'!