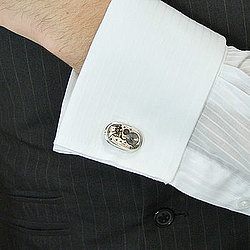 Designers of unique Sterling Silver jewellery, Pat and Kelvin Wongsam welcome you to Gilbert & Skeggs.
After finishing our careers in education we developed our business on the 'Craft Circuit' selling at high quality events throughout the country. It was at one of our shows in 2011 that we were discovered by NOTHS and invited to join . From that point our business has been mainly internet based. Our Art and Design backgrounds have provided a catylyst for our constant quest for ideas that have not been thought of before. This pursuit of design originality is ever present.
We love to be different.
We are committed to offering as many lines as possible that are truly unique, quirky and cannot be found elsewhere ...............Berlin Wall Cufflinks, Clarice Cliff Earrings and jewellery made from shards of HMS Victory Copper to name but a few. Browse our products to find beautiful items that literally cannot be bought elsewhere . Plenty of ideas for gifting to ' the person who has everything'.
Whether you're looking for that special gift or simply want to add a touch of stylish chic to an outfit, you can trust Gilbert & Skeggs to provide the ideal piece of jewellery for you at surprisingly affordable prices.
We offer rapid service, free shipping and personal attention. Our feedback on NOTHS over four and a half years has been 100% positive. A fact we are very proud of.
Our highest priorities, alongside first class customer service and tremendous value, will always remain excellent craftsmanship, quality and most of all original design.