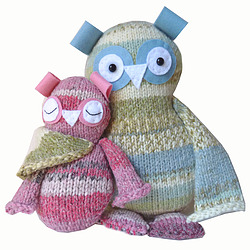 Lovely colourful knitting kits...all designed, hand-packed and dispatched by our little company in the Brecon Beacons.
Our fun-to-make knitting kits use only the softest chunky wool, making each one a pleasure to knit. High quality bamboo knitting needles come with each kit too- in fact our kit boxes are packed full of all the lovely things you'll need to make a soft and squeezable beastie to give as a gift or treasure yourself. Whether you're looking for a project for a beginner knitter or a knitting pro we have a knit kit suitable for you.
All our patterns are easy to follow, and all come with fully illustrated step-by-step instructions.
Attractively packaged in a sturdy Gift Horse presentation box, decorated with gold stars and tied with a handwritten tag and painted wooden heart, our knitting kits make ideal Christmas gifts for even nervous knitters, and are especially suited as gifts for children (or you can keep them for yourself- we're sure you'll be tempted!...) Our mini-kits make fab little Christmas stocking fillers too, and are just the right size to pop in a party bag.
We also offer several personalised hand-knitted gift items for weddings and Christenings- each of these is knitted to order by designer Addy Whitfield.
Gift Horse Kits have been featured in (amongst others) Mollie Makes, Knit Today, Popular Crafts, The Official Jacqueline Wilson Magazine, Simply Knitting, Crafts Beautiful, Let's Get Crafting & The Knitter.
"One of our favourite knit kit brands" Knit Today Magazine
To see our full range of kits and handknitted treats, please click on the 'view all' link below