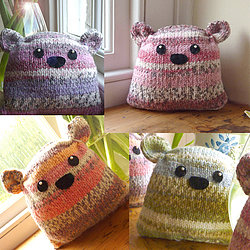 Hello! Welcome to Gift Horse Kits- where we design, handpack and post colourful knitting kits all over the world, from our studio in the Brecon Beacons
Our ever-growing collection of knitting kits has something for everyone- from absolute beginners to dedicated knitters, and all of our knit kits are suitable for both adults and children. All kits are handpacked to order, so we can offer a range of colours and personalisation options to make them a bit more special. Dedicated to creating totally unique and quirky kits, we aim to show knitters of all ages that they can make something gorgeous even with basic knitting skills. Please get in touch if you need any help choosing!
If you don't knit, designer Addy also handmakes a selection of knitted treats that can be personalised for quirky Wedding gifts, Christening presents (or as a gift for yourself)
Gift Horse Kits have been featured in (amongst others) Mollie Makes, Knit Today, Popular Crafts, The Official Jacqueline Wilson Magazine, Simply Knitting, Crafts Beautiful, Let's Get Crafting & The Knitter.
Our bestselling Plump Flump Beginner Knit Kit was voted one of Prima Magazine's 'Ten of The Best Knitting Kits for Beginners' 2016,
"One of our favourite knit kit brands" Knit Today Magazine
To see our full range of kits and handknitted treats, please click on the 'view all' link below