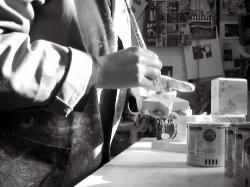 Giddy Kipper formed by business partners Heidi Clawson (nee Bowman) BA Hons and Steve Clawson, can be found in an old malthouse in rural Lincolnshire.
After completing a textile degree and living and working in Manchester for six years, Heidi returned to her Lincolnshire base. Steve also returned to Lincolnshire from working in London and the couple, who have been friends for 20 years, set up their own business - combining Heidi's artistic skills and Steve's business knowledge.
Steve soon showed great talent for hitting things with hammers and Heidi who had been 'colouring-in' for years (as a freelance designer - working as a greeting card artist for companies such as Hallmark and selling childrens' textile designs in the UK, Europe and America), decided to put their skills to a more practical use.
They quickly built up their first range - inspired by the sea and family holidays spent on the North Norfolk coast, and began travelling to craft shows & Country Living Fairs to sell their wares.
They now produce excellent and original home accessories, decorative items and gifts. All of the items are handmade by the partners and hand painted by Heidi. Their ranges now cover fun stuff for kids, the ever-popular seaside and rustic country style and a new wedding range.