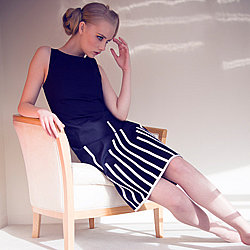 Our story started in South London when frustrated with the high street offerings we launched a small collection of clothing suitable for day and evening, featuring unusual detailing and gorgeous fabrics. Versatility, comfort and highest quality were (and still are) paramount, but the leading aspect was the fine tuned balance of eccentricity and gracefulness in pursuit of true individuality and style.
We called the range LAGOM.
The name is a Swedish word that means 'just right' or 'in perfect balance'. True to this philosophy we combine quirky detailing, classic shapes and retro references with innovative ideas and modern materials to achieve that elusive balance.
Whilst we continue to produce our vintage inspired, feminine clothing ranges, we have also started to make and source jewellery, gorgeous fashion accessories and more recently unusual, luxurious homewares to create a more inclusive lifestyle offer that our customers love.
So whether you are after that perfect desk-to-dinner dress, smart go-anywhere blouse, gorgeous handmade jewellery that does not break the bank, colourful one-off bag, softest silk scarf, stunning pair of shoes, luxurious sheepskin hide or glorious scented candle LAGOM is your place.
Because everything we produce or source is made in small quantities the selection you will find will be eccentric, very different to what's available on the high street and hopefully will make you smile!
We work with small manufacturing businesses, co-operatives and talented artisans in Asia and Europe. Fair working conditions are important to us and we visit our suppliers as often as possible to make sure good standards are being maintained.